A Year of Celebration and Renewal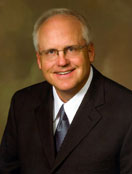 By John B. Lund, President & Chief Executive Officer
To our valued members,
America First celebrated our 75th anniversary in 2014, honoring the pioneers who established what has become one of the strongest, most relevant, and highly trusted credit unions in the nation. To truly honor those who went before us, we seek not only to recognize their achievements, but continually strive to sustain and build on their legacy.
When the year began, an internal theme was established to complement our budget and strategic plan: Embracing Our Legacy. Now is Our Time. In this case, the word now stood as an acronym for no opportunity wasted. Our use of embrace implies the ability to receive gladly, to adopt, and to appreciate, a perfect choice considering our wonderful heritage. Now is our time signaled the importance of this institution's entire team being actively engaged in making a difference in our members' lives and meeting your evolving financial needs.
I am privileged to report that, in 2014, America First experienced an outstanding year in terms of serving the membership, achieving beneficial goals, and performing at exceptional levels.
Member satisfaction: Our loyalty, retention, and product utilization numbers are among America's best. Our net promoter score — an industry benchmark for evaluating service quality — stood at 83.0% at the close of 2014, an extremely high figure and one few companies have attained.
Outstanding service through all delivery channels is of primary importance to America First, whether a member interacts with us at a branch, over the phone, online, with mobile devices, or by purchasing vehicles through local dealerships. We employ significant resources in training, monitoring, and feedback mechanisms to sustain and improve our service levels.
Financial stability & performance: America First is fiscally sound and rated among the best credit unions in the United States. We closed the year with $659 million in capital, up 15.85%. Our net worth ratio was 11.51%, rising from 10.05% in 2013. Our federal regulator, the National Credit Union Administration (NCUA), considers a net worth ratio of 7% to be well capitalized. We additionally received an unqualified opinion from our external audit firm regarding our financial statements.
Our financial performance proved to be superior in 2014. Net income totaled over $144 million. Assets surged by more than $511 million, or 8.71%, with return-on-assets (ROA) at a strong 2.32%. The ROA number was enhanced by excess allowance for loan loss dollars flowing back into the income line item.
Our membership continued to grow at a steady pace and was at 681,430 to finish the year. Deposits were up more than $384 million, or 7.37%. Our year-to-date loan growth was 10.48%, netting $421.6 million. Our loan delinquency rate fell from 2.11% to .80%, and the allowance for loan and lease loss account remains more than adequate to absorb any portfolio deficiencies.
We funded in excess of 14,000 mortgage and home equity loans, totaling more than $834 million, reinforcing our status as a premiere real estate financing institution. We take pride in helping families purchase, refinance, and upgrade their home investments.
Strategic growth & initiatives: New locations opened in Ogden, Saratoga Springs, and Tooele, Utah; and in Las Vegas, Nevada. We enhanced and upgraded our information-technology networks, as well as our free Online Banking & Mobile Banking systems. America First was the second credit union in the country to provide the Apple Pay service, and we were the first in Utah to deploy merchant-funded offers to members via our Visa® credit and debit cards. Additionally, the ability to generate vehicle loans through mobile devices was a first for financial institutions in the state. Mobile check deposits grew substantially and this is another example of our focus on convenience. With our person-to-person payment capability, you can transfer funds to whomever you choose, even if they aren't America First members. We expanded our business lending capability, improved the business Visa credit offerings, and enhanced our mobile transaction system for business account holders. Our social media presence is robust and a valuable means of communicating and receiving suggestions. Many members have taken advantage of our outstanding financial planning, insurance, and trust services. Our commitment is to provide you with the best available products and services and give you anytime, anywhere account management.
We remain dedicated to improving our schools and the communities we serve. Examples of these efforts include supporting food drives, conducting our Warm The Soles of Kids holiday campaign, contributing to the 100% For Kids Credit Union Education Foundation, making grants through the America First Charitable Foundation, supporting children's hospitals, and assisting so many other worthy civic and community causes. Further, our team donated countless hours of their personal time to service outreach.
Challenges and opportunities: The economy and consumer confidence, while slowly growing and improving, remain somewhat fragile. There is an uneasiness regarding monetary policy, government gridlock, high federal deficits, and world instability. There are, however, positive indicators, including improving real estate values, growth in the housing market, and strong automobile sales. Regardless of any larger economic conditions, members can be assured that your credit union is strong, vibrant, and determined to always have relevance and excellence in serving you.
Appreciation: America First Credit Union would not have achieved the strength and superior reputation we enjoy without the dedication and hard work of volunteers and staff. Our Board of Directors is elected by the membership and represents your best interests in strategic and policy decisions. The Supervisory Committee works diligently with internal and external audit firms to ensure our financial reporting is accurate, and that our fiscal position remains sound and secure. The Loan Review Committee provides an important appeals process for these decisions. Gratitude is also extended to our wonderful team of employees. They are truly passionate about this organization and serving our membership, whether directly or indirectly.
Most importantly, we express our utmost appreciation and commitment to you, the members. We thank you for your support, and we look forward to a lifetime relationship in giving you and your family financial solutions to improve your well-being.