America First Honors our Unique and Lasting Legacy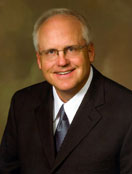 By John B. Lund, President & Chief Executive Officer
Each spring, America First members gather to elect a volunteer Board of Directors to guide our credit union, renew our unique & lasting bond, and honor our legacy as a not-for-profit cooperative.
Held April 14, 2015 in Ogden, Utah, the 76th Annual Meeting continued the democratic tradition of voting for fellow members to provide us with direction and oversight. We were also fortunate to have civic leaders, representatives from credit union trade associations, and other dignitaries in attendance.
Board Vice Chair Barney B. Chapman, Chairman of the Board Elections Committee, oversaw the balloting, during which America First Board members Lyle B. Adams, Joy Jex and John D. Spease were elected to serve three-year terms. They, along with Linda Carver, Mr. Chapman, Edwin G. Cline, Kenlon W. Reeve, Michael R. Roden, and James G. Wendler are exceptional individuals on our Board who are dedicated to your financial well-being.
The Board subsequently chose their leadership following the meeting, with Mr. Wendler taking the role of Chair, Mrs. Carver serving as Vice Chair, and Mr. Reeve being Secretary.
Volunteers on our Board work exceptionally hard and without compensation to direct our organization in a provident and productive manner. That we benefit from the abilities of these volunteers is one of many admirable characteristics of our structure, and we are truly fortunate to have such a remarkable team working on your behalf.
We further owe a great deal of gratitude to our volunteers on the Loan Review and Supervisory Committees. The Loan Review Committee meets to conduct appeals processes for those seeking to resolve their credit situations and find solutions to financial challenges. The Supervisory Committee offers fiscal & regulatory review to ensure the credit union has judicious and sound programs, policies, and procedures.
In her remarks at the meeting, outgoing Board Chair Carver expressed appreciation to the membership for their choice in financial institutions, and congratulated the staff, management, and volunteers for their diligence in serving your needs in a remarkable fashion, year after year.
Mrs. Carver also reflected on the credit union's strong performance across key categories in 2014 and assured all that America First, is safe, sound, secure, and stands as one of the finest institutions in the country. She further commented on our commitment to prudent growth.
I am blessed to serve with these volunteers and our remarkable team of more than 2,300 employees, who provide you and your families with the products and tools necessary to achieve financial well-being. We realize it's essential for you to conduct business with the credit union in the manner you find most convenient, and we are a national leader in giving you anytime, anywhere access. Delivering outstanding service through all channels is of primary importance to us.
We additionally remain steadfast in promoting financial literacy, supporting schools and the communities in which we have a presence, and we will continue to pursue opportunities that facilitate the greater good through worthwhile causes, the America First Charitable Foundation, and other partnerships.
I am proud of what America First Credit Union stands for and the service we provide. I am especially thankful for your commitment to America First. We look forward to a lifetime relationship.