Free Services Add Value to and help Simplify your Busy Life
By John B. Lund, President and Chief Executive Officer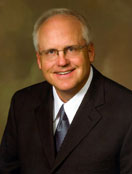 Have you left your credit or debit card at a restaurant by accident and been panicked as you call or rush back, hoping it's still there and has not been fraudulently used? Or you've waded through the inconvenience of having your card reissued because your information has been compromised at a local or national merchant?
Most of us can relate these situations and the experience can be very frustrating. To help put your mind at ease about using your America First Visa® Debit and Credit Cards, we are proud to offer unique — and free — tools.
Card Guard™ is a Mobile Banking innovation that puts you in complete control of how, when, and where your cards are used. Download the application on your smartphone and you'll be able to turn your cards on or off in real time. Additionally, you can allow card use only in certain geographic locations, at merchants and service providers you determine, and you can set threshold dollar amounts for transactions.
Beyond controlling how your cards are used, you can also receive immediate alerts regarding transactions and attempted transactions. Card Guard's monitoring feature allows you to verify that all of your account activity is legitimate.
Card Guard is supported on Apple and Android devices. It is easy to use and can be downloaded from within our Mobile Banking platform or from the appropriate app store.
Further, we offer our members Apple Pay®. With this service, you are able to load your debit and credit cards into your phone, then make transactions with the enhanced security of thumb/fingerprint verification. That way, you won't even have to remove your cards from your wallet or handbag.
Apple Pay can be used independently or in conjunction with Card Guard. Both services provide you with secure control of your transactions. For more detailed information, please visit us here, call 1-800-999-3961, or stop by any of our branches.
At America First, we continually strive to deliver relevant services that add value to your membership, as well as simplify your complex and busy lives. We thank you for choosing us and look forward to a lifelong relationship with you and your families.