Guest Commentary: Indicators Point to Strengthening Economy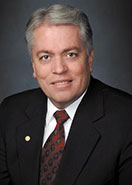 By Glen Olpin, Senior Vice President/Chief Economist
We at America First expect a strengthening economy in 2016, similar to what we experienced last year. No matter the economic climate we face, however favorable or unfavorable, your credit union remains committed to providing service excellence and we're dedicated to establishing lasting relationships of trust with the membership.
In a recent survey, nearly 78% of America First members reported expectations that local economic growth will remain at existing marks or improve over the next 12 months, although 33% state they expect to see increases to their households' cost of living.
The most current year-over-year average for economic expansion, as measured by gross domestic product (GDP), shows a 2.1% upward trajectory. We expect 2016 GDP growth to stay between 2% and 3%. Interest rates were held low throughout 2015. In December, the Federal Reserve Open Market Committee raised the Fed funds target rate by 0.25%, signaling a slow cycle of moderate hikes. Our research suggests that 56% of our members think rates will remain somewhat stagnant for the next 12 months, while 33% expect further increases.
Labor measurements have nearly fallen to levels that constitute a full employment designation, as measured by economists. But the workforce participation rate is still being driven downward by discouraged employees, retiring baby boomers, and mothers not returning to their careers. This key metric, combined with a lack of substantial wage raises, indicates that the job market may not be as strong as the unemployment numbers themselves might imply.
Utah unemployment is well below the national average. The state has led the country in job growth since early 2015 and unemployment is expected to move even lower for 2016. Additionally, moderate wage increases are forecast to occur during the year. Jobless figures are declining in Nevada, but, as of November of 2015, the unemployment rate was still higher than the national average. However, the state's economy is building momentum and is expected to be one of the strongest in the country this year, with unemployment falling to 6% by the end of 2016. Our research confirms that 97% of members surveyed expect their employment positions to improve or at least remain the same in 2016.
During the past year, inflation stayed low. Strong auto sales led the economic recovery. In addition, housing prices and home sales have strengthened, offering an additional stimulus. The manufacturing sector, though, still struggles and retail sales have given mixed signals. Overall, the economy is growing yet still fragile. Many members do report intentions to make major purchases, such as homes or vehicles, during the coming year and even more are planning vacations.
With consumers gaining confidence and the economies improving in Utah and Nevada, we will see enhanced opportunities to serve your loan, savings, retirement planning, and complete financial needs during the coming year. Thank you for your membership. Our pledge is to remain financially secure and ready to provide beneficial solutions to you, your families, and your businesses. We appreciate the confidence you've placed in America First Credit Union.