Guest Commentary: The Secret to Financial Performance
By Rex Rollo, Executive Vice President/Chief Financial Officer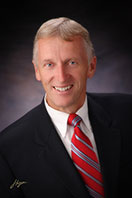 A typical company's mid-year financial performance report would include numerous fiscal measurements, such as net income, asset growth, cash flows, and net worth. In addition, comparisons between actual performance, budgeted goals, and projections would likely be drawn.
Rest assured, America First Credit Union has either met or exceeded our targets in all of these indicators during the first half of 2015. Assets will exceed $7 billion before the year ends, our income is on budget, and our net worth ratio is at its highest level in seven years. These favorable numbers demonstrate yet another 12 months of strong financial performance and have resulted in America First being ranked among the strongest of its peers.
Key to these excellent results and the real secret to our success is the relationship we build with each of our members. Because of our dedication to this core ideal, not only has the credit union seen consistent membership growth year after year, there has also been an expansion in the number of products and services being utilized.
This compounded membership growth only occurs when the credit union is able to offer a complete range of quality products and services. It is then enhanced by delivering them through a wide selection of convenient, world-class channels. Our goal is not only to provide our members with the finest financial services, but to make them available whenever, wherever, and however members choose to transact their business.
Now with 111 convenient branch locations, thousands of fee-free ATMs across the nation, best-of-class online financial services, and free Mobile Banking that includes a host of beneficial features, our members never need to be out of touch with their finances.
It is no wonder we continue to experience growth, considering the valuable time-saving and convenient service channels we provide, along with the advantages members receive from our industry-leading products.
The latest addition to our tools of convenience is Money Manager, a free, intuitive budgeting guide available through America First's Online Banking platform. This allows members to track and manage all of their finances in a single place, even their accounts with other institutions. We may not have all of your eggs in our basket, but we are the best at helping you keep track of them.
Another recent Mobile Banking innovation is Card Guard, security you controlâ"¢. This free service allows you to set limits on when, where, and how your America First credit, debit, and ATM cards can be used. Controls can be quickly added, modified, or deleted simply by tapping your smartphone.
Even though the credit union has achieved excellent results so far in 2015, we place the most value on the financial success our members experience by taking advantage of all America First can deliver. We are also proud our members are doing so with the confidence that accompanies choosing one of the strongest financial institutions in the country.