The Innovation Center is our New & Interactive Service Experience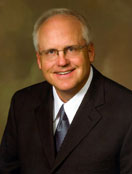 By John B. Lund, President and Chief Executive Officer
We're excited to introduce our new Innovation Center, located in the heart of downtown Salt Lake's City Creek destination. The America First Innovation Center will not function as a traditional branch; rather, it will be an engaging and collaborative hub, showcasing advanced technological solutions for multiple service channels. Members and consumers who wish to learn more about America First will have a greater voice in shaping their experience in the future.
Our partners in the project are industry leaders in financial services, providing the latest in cutting-edge tools. Examples include:
• Remote experts — Members can interact with trained staff regarding a wide range of products and services through enhanced 3D, face-to-face video conferencing.
• Self-serve tellers — These units can take deposits, facilitate withdrawals, print money orders & cashier's checks, and can supplement or replace existing teller stations. They are ideal for members seeking the functionality of a teller with the ease and convenience of an ATM.
• Smart-touch tables — The devices will demonstrate our variety of apps and offer hands-on guidance for our suite of free Mobile Banking products. Members can also engage with 55-inch multi-touch monitors and 3D models to discover more about America First's great offerings.
• Community Corner, with two 65-inch monitors displaying our extensive social, community, and educational involvement.
• Feedback terminals — Multiple touch-screen monitors, presenting questions and facts about financial topics, as well as real-time feedback from other members and consumers. The Innovation Center will additionally hold events and seminars throughout the year.
• ATMs will feature the most advanced capabilities, including deposit automation.
• Consult stations will have Innovation Center staff on hand to show and discuss free Online Banking, all the many facets of americafirst.com, and other financial & account issues.
We have an outstanding team serving you at America First. I would especially like to thank and recognize Jeremy Deamer, our manager of Branch Systems Development, who has done an excellent job leading the center's research, development, and implementation.
The America First Innovation Center will continually evolve as we collaborate with our members, business members, and business partners to remain relevant to your existing and unfolding financial needs. Thank you for choosing us and for the trust you place in our credit union. We look forward to a lifelong relationship.