Love for a Man Never Met — the Legacy of Little Jimmy Fisher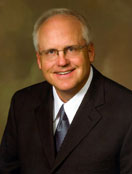 By John B. Lund, President & Chief Executive Officer
I recently heard a heartwarming true story about the experience of Eugene Gibbs on Iwo Jima Island during World War II. It was carefully and passionately told by Eugene's dear wife, Wanda, and his granddaughter, Kristin, both members of America First Credit Union. I am grateful their family was willing to share something this special.
Eugene Jens Gibbs was a good man and one of the Greatest Generation. He was a member of Company K, 3rd Battalion, 4th Marines. Eugene had a buddy named James C. Fisher, Jr., fondly known as Little Jimmy Fisher. Jimmy and Eugene met during basic training, discovering they were of different backgrounds and from opposite ends of the country. Over time, they formed a close friendship. Eugene and Jimmy served and fought together through several terrifying and bloody battles in Rio-Namur, Saipan, Tinian, and Iwo Jima.
Iwo Jima is located between the Mariana Islands and Japan's mainland. It was an important defensive position for the Imperial Army and consequently of great strategic value to the Allied troops. Japan had long worked to fortify the island with concrete bunkers, a complex system of tunnels, and heavily armed positions, both offensively and defensively.
During the heat of the Iwo Jima battle, Eugene stood up to throw a grenade and was shot in the throat. The bullet entered the front of his neck and exited through his shoulder. This brought Eugene down, who was choking on his own blood. Several men came to his aid and attempted to stop the bleeding, all without success. Jimmy Fisher also rushed to his friend's side and ultimately stuck his little finger inside the wound to apply pressure and staunch the flow. Jimmy held his buddy in that position until medical soldiers could arrive to provide additional care and take him away from the engagement. Sadly, two combat medics died while evacuating Eugene.
Sometime later, Eugene received the heartbreaking news that his dear friend, Jimmy Fisher, age 19, the man who had just saved his life, was killed during fighting the day following Eugene's injury. Eugene was ultimately transferred to a hospital in Hawaii, where he learned that all but three men from Company K were lost. To take Iwo Jima, it cost 6,821 Americans their lives and wounded 19,217 more. This was devastating news, but the loss of his dear friend Jimmy was especially difficult for Eugene.
After months of healing and recuperation, Eugene returned home and eventually met and married the love of his life, Wanda Purser Leishman. Together, they raised four children and endeavored to lead lives of faith, hard work, humor, honesty, and optimism. Eugene passed away last October at age 94. Eugene led an inspiring life and is dearly loved and missed by his family and many friends. At the time of his passing, Eugene and Wanda's posterity included four children, 18 grandchildren, and 33 great-grandchildren. We are fortunate to have one of Eugene and Wanda's great-granddaughters, Kadey Karras, on our team here at America First.
Eugene never forgot the genuine bond with and sacrifice made by Jimmy Fisher, thinking of him often, praising him often, and frequently speaking of him at Boy Scout meetings. He and Jimmy shared a love of the Boy Scouts, both having received the rank of Eagle in their youth. Eugene named his first son James in honor of Jimmy. Eugene's family also developed a great love and appreciation for Little Jimmy Fisher. James continued this revered tradition by naming his first child, a daughter, Jamie in honor of Jimmy Fisher.
After considerable research, Eugene and his family learned that Jimmy's body had been returned to the U.S. and buried in Arlington National Cemetery. In 2007, Eugene was able to visit this sacred place, locate Jimmy's grave and, after 63 years, give his dear friend a heartfelt and final salute.
We at America First also salute Jimmy, Eugene, and the thousands of others who have served and are serving our country.
Throughout July, we will participate in many patriotic celebrations, parades, hometown festivals, fireworks, rodeos, family picnics, and other activities. Let us also pause to remember the tremendous efforts and selfless sacrifices of those who served and died securing and preserving the freedom, peace, safety, and opportunity we enjoy in this fine land, the United States of America.
To our members, we thank you for choosing America First and look forward to a lifelong relationship with you and your family.