Value, Service, Strength, and Soul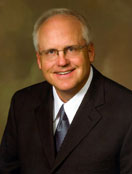 By John B. Lund, President & Chief Executive Officer
It is my privilege to thank each of you for your support, loyalty, and trust. We at America First endeavor each day to provide relevant, affordable financial products and services in a convenient, professional, and personal manner.
On behalf of our volunteers, leadership team and staff, I am honored to report that America First experienced an outstanding year in terms of quality service, adding membership value, achieving strategic objectives, and superior financial performance.
Value — We strive to help our members keep more of their money in their pockets and to help simplify busy lives.
To that end, we offer free checking, free Visa® debit cards, free 24/7 account management through numerous channels, and free access to 43,000 ATMs. By using Visa from America First, members earn merchant-paid discounts and cash rebates, which are in addition to the cash back or rewards gained through existing card programs.
Further, free counseling is available to members seeking a helping hand with budgeting or setting a new financial course. We provide free credit scores, hold free educational seminars, and offer free document shredding events throughout the year.
We are proud to provide services that meet your diverse needs, including Visa credit cards, mortgages and home equity loans, auto & RV financing, personal loans, business loans and services, merchant services, and U.S. Small Business Administration (SBA) loans. Additional offerings include investments & insurance, trust services, and a full complement of savings vehicles, including money market accounts, individual retirement accounts (IRAs), health savings accounts, and certificates.
America First is a market leader in delivering true value when it comes to loan and deposit rates, and low fees. We are confident we can save you money, improve your financial well-being, and help simplify your life by consolidating your services at America First.
Service, Convenience & Member Satisfaction — It is our desire to serve our members how and when they choose.
America First maintains one of the region's largest branch networks, with 115 locations and more planned for 2016. Free access to the credit union is available via phone, secure email, or live chat. We foster a robust social and digital media dialogue that informs and engages.
Our premier electronic services are nationally recognized for technology, simplicity, and user-friendliness. Members can take advantage of free online banking, free mobile banking with mobile deposit, free mobile & online bill pay, free Apple, Android and Samsung Pay, free Card Guard® mobile security, free Visa card personalization, and more.
When you're purchasing a car or RV, America First financing is available directly at the dealership. You can check auto values, as well as apply for loans and receive approval through your mobile device. America First is committed to assisting individuals and families purchase, refinance, or upgrade their residential investments. During 2015, we funded in excess of 18,000 mortgages and home equity loans, totaling approximately $1.2 billion, reinforcing our status as a top real estate financing and servicing institution.
Our loyalty, retention, and product utilization numbers are among the country's best. Our net promoter score — a benchmark for evaluating service quality — stood at 83.2 at the end of 2015, a figure few companies have attained. We will continue emphasizing our training, monitoring, and feedback mechanisms to sustain and improve these levels.
Strength, Strategy, and Stability — America First is fiscally sound and independently rated among the best credit unions in the country.
We closed the year with $765 million in capital, up 16.1%. Our net worth ratio was 11.6%, rising from 11.5% in 2014. Our federal regulator, the National Credit Union Administration (NCUA), considers a net worth ratio of 7% to be well capitalized. When completed, we expect another unqualified opinion from an external audit firm regarding our financial statements.
Net income for 2015 totaled $104 million. Assets grew by 12.4% and ended the year well above $7 billion, with return-on-assets (ROA) at a strong 1.5%. The ROA figure was enhanced somewhat by excess allowance for loan loss dollars flowing back into the income line item.
Our membership continued to grow at a strong pace, finishing 2015 at 743,771. Deposits increased more than $684 million or 12.2%. Our year-to-date loan growth was 14.8%, netting $658 million. Loan delinquency rates rose slightly from .80% to .98%, and the allowance for loan and lease loss is more than adequate to absorb any portfolio deficiencies.
Four new branches opened in Lehi, Herriman and Kaysville, Utah, and in Henderson, Nevada. We continually upgrade our information-technology systems and networks.
Soul — We remain committed to improving our communities & schools and working to make a meaningful difference in the lives of others.
Examples of these efforts include supporting food drives, conducting our Warm the Soles of Kids campaign, contributing to the 100% For Kids Credit Union Education Foundation, making charitable grants through the America First Foundation, supporting children's hospitals, providing scholarships, and assisting many other worthy causes. Further, our team donates many hours of personal time to service outreach.
Our credit union is strong, vibrant, and well positioned for the future. My deepest gratitude is extended to our volunteers and staff, who are passionate about serving our membership, whether directly or indirectly.
Most importantly, I express my utmost appreciation to you as our valued members. It is our desire to develop and maintain a lifelong relationship with you and your family.