A Truly Special Month for our Household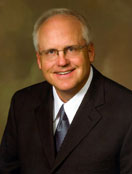 By John B. Lund, President and Chief Executive Officer
For a number of reasons, November is always a cherished time for me and my family. Not only was my dear wife born during the month, the occurrence happened to take place on Thanksgiving Day. I have heard the story many times: my mother-in-law was sitting down to her holiday dinner when her first daughter decided it was time to come into the world and join the celebration. My future in-laws missed their meal that year, but received something far more precious and lasting. Their daughter and my wife is truly a jewel, not to mention the best grandma in the world.
Besides my wife's birthday, November holds a special place on the calendar with two distinctive holidays: Veterans' Day and Thanksgiving.
Veterans' Day is November 11, honoring those who have served in the U.S. armed forces, protecting & preserving our freedom and our way of life. It was originally called Armistice Day to mark the anniversary of World War I ending; the major hostilities of this horrific conflict were formally halted on the 11th hour of the 11th day of the 11th month in 1918. The observance was changed to Veterans' Day in 1954. Today, there are approximately 23.2 million U.S. veterans.
Thanksgiving provides us with the opportunity to offer appreciation for the blessings of the harvest and the preceding year. It has historical roots in religious, cultural, and secular traditions. In 1621, the Plymouth colonists and Wampanoag Indians shared an autumn feast that is acknowledged as one of the first Thanksgivings. It wasn't until 1863 that President Abraham Lincoln proclaimed a national Thanksgiving holiday to be held each November.
As we enjoy this month's many activities & festivities, it would certainly be appropriate to pause and consider the deeper meaning of these two special days. There is much for which all of us can be thankful.
I am additionally grateful that America First Credit Union is an institution of principle and integrity, an organization with a mission of helping people. I am privileged to rub shoulders each day with outstanding professionals focused on providing the best financial services to our members. We are thankful for your business and pledge our continued efforts in serving you. We look forward to a lifelong relationship with you, your family, and your friends.