America First Offers Leading-edge Card Security You Control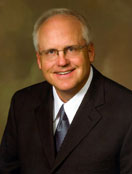 By John B. Lund, President & Chief Executive Officer
I recently spoke with an America First member who was concerned about the rise in credit and debit card fraud. He enjoyed the convenience, simplicity, and advantages of paying by card, but was worried about his information being compromised at a merchant. Our member observed that some companies may be lacking the controls to properly protect his data, and he noted the surge in dishonest people who are all too anxious to rob him of his resources.
America First Credit Union and Visa® work diligently to protect you against fraudulent transactions, although the prospect of reissuing your cards and resolving disputes can be time-consuming and frustrating.
Imagine, then, the possibility of putting yourself in control of how, when, and where your debit and credit cards can be used. Think of how beneficial managing your cards in real time would be, giving you the ability to conduct transactions based on your location, the type of purchase you're making, at which merchants you're visiting, and at a dollar limit you're setting. You'd also like to receive alerts notifying you when and where your card is being swiped, and be able to modify and change these controls as you see fit and while you're on the go.
There is no need to use your imagination, because we now have this ground-breaking service available. Your credit union is proud to offer Card Guard, security you control™. This is another innovative first from America First, giving you anytime & anywhere card management.
It's an exceptional safeguard and a flexible tool provided at no cost to our members. We appreciate and value your loyalty toward our products and services, and we are always looking for ways to add value and enhance your experience.
Download the Card Guard™ application inside free Mobile Banking for your iPhone or Android smartphone. You're also welcome to search for Card Guard in the iTunes and Google Play stores. And be sure to visit americafirst.com for additional details.
We hope you enjoy Card Guard and continue to utilize all we offer for your financial well-being. Thank you for being a member and for the trust you place in America First. We look forward to a lifelong relationship.