Heroic Story from World War II Inspires & Humbles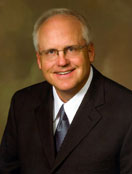 By John B. Lund, President and Chief Executive Officer
One of the things I appreciate most about America First is the people with whom I am privileged to work, such as Thayne Shaffer, our senior vice president & controller. Thayne shared with us the story of his grandfather, who served during World War II as an engineer in a B-24 bomber. It is a heartwarming description of service, teamwork and patriotism that his family has kindly allowed me to relate to the membership.
Ray Albiston was born on January 10, 1913 in Whiskey Gap, Alberta, Canada. In his youth, Ray worked as a ranch hand on both sides of the border. He eventually moved to Elko, Nevada, where he became an American citizen and met & married his sweetheart, June Nielson.
He entered the Army Air Corps on December 28, 1942 and was trained as a flight engineer on the B-24 Liberator. Thereafter, Staff Sergeant Ray Albiston was deployed to El Aouina, Tunisia with the 15th Air Force, 450 Bombardment Group, nicknamed the Cottontails. He flew in 37 missions over some of the most dangerous and challenging air space in the European Theater. Thirteen were considered so perilous that he and his crew received double credit toward their 50 required missions.
On June 24, 1944, Ray and his crew found themselves facing heavy opposition over Germany's strategic and heavily defended oil installations in Ploiesti, Romania for the second time. About this conflict, his Silver Star citation reads, in part: "…approaching the target, their formation was attacked by approximately 50 highly aggressive enemy fighters and their aircraft was severely damaged…systems were rendered inoperative and the waist gunner seriously wounded. Despite the crippled condition of their aircraft, displaying outstanding courage and teamwork, they battled against overwhelming odds, bringing their ship through for a highly successful bombing run." Of the 39 planes in his group, 10 were lost and others went missing. On August 9, 1944, he and his fellow crew members received the Silver Star. Ray went on to fly in 27 more missions.
Ray's magical mission number of 50 was eventually reached and, on October 22, 1944, June received the following via Western Union telegraph: ARRIVED IN U S A, FEELING FINE, HOME SOON, LOVE TO ALL, RAY.
After serving as a Tonopah Army Airfield instructor in Nevada, Ray returned to his wife and first daughter in Elko. They later relocated to Lovelock, Nevada, where they raised five daughters, opened a grocery store and, later, a Texaco service station. Although Ray's Texaco served the community until his retirement, his station was most famous for two things. First, all the kids in Lovelock learned that if they had flat bicycle tires, they could take them to Ray's and he would fix them for free. Secondly, he had a huge candy selection in the glass display in the station's office. More often than not, kids left Ray's with both fixed bike tires and free candy for the road.
Ray didn't make any money repairing bicycles or selling candy, but he developed a lot of friends, lasting relationships and great respect, something money doesn't buy. We owe a lot to individuals like him who have served or are now serving our country, and who contribute to their communities in quiet ways throughout their lives. Ray passed away in 1994.
His sweetheart June was also involved in assisting those around her. During the war, she received training and served as a nurse. Known affectionately by her friends and neighbors as Junie, she was a member of many civic, charitable, and church groups. People who were sick, out of work, grieving, or celebrating the arrival of a new baby often found a plate of fresh-baked cinnamon rolls or a new hand-stitched quilt delivered to their homes. June turned 98 in May and spends time with her daughters, grandchildren & great-grandchildren. She has been an America First Credit Union member since 1998.
During July, we celebrate the birth of our nation and honor the contributions of those like the Albistons, who have sacrificed so much for and contributed so much to our country. As we enjoy the fireworks, parades, picnics and observances of summer, I hope we pause to remember the many great individuals who have given of themselves so that we all might benefit.
I would like to personally thank all the veterans and their families within our staff, volunteers, and membership. Thank you for your trust in and support of America First. We appreciate the opportunity to serve you and look forward to a lifelong relationship with you and your family.