The Power of Respect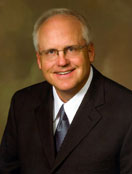 By John B. Lund, President and Chief Executive Officer
During each fall season, we begin our budget and strategic planning process for the coming year. As part of this important project, we send a questionnaire to our entire management team.
This document provides us with insight from the collective eyes and ears of this talented and dedicated group of professionals striving to meet your needs. A number of questions are asked regarding our products, services, strategies, mission, and other key areas of focus.
Our questionnaire is administered through an anonymous system to help ensure every participant is able to respond in a completely open manner. This year, at my request, an additional question was posed to our managers: "What do you respect most about America First Credit Union?"
I specifically used the word respect rather than another term. I feel respect is something deeper, something earned over time, something more meaningful. The feedback we received was extraordinary, and I was impressed to share some of their feelings with you:
I love the fact that we not only ask our members and employees what we can do to improve, but we actually listen and put many suggestions and ideas into action.
Members come first is not lip service. I respect the fact that our strategic objectives never waiver from supporting our mission of promoting and improving the financial well-being of our members. I truly feel like I am able to help people…we can change people's lives.
America First's values, mission, and vision align with my own. I know [America First] is a professional and secure financial institution, and I sleep well at night knowing I can help steer our members to financial security as well.
The constant desire to innovate and stay on the cutting edge of products is impressive, as is our long-standing reputation for excellence. I am proud of the products and services we offer.
America First has the highest degree of corporate integrity. I respect the fact that I work for an organization [with] a steady approach, [which] allows us to continue through ups and downs of economic cycles. When people learn that I work for America First, they seem to have a little more respect for me personally.
America First is very professional, but fosters an atmosphere of fun and enjoyment. I love that they value their employees and provide the tools, training, and support for their success.
I take pride in knowing that the company I work for cares so much about the community [in which] I live and work. The volunteerism, the food drives, the donations of time, material, and resources is impressive.
I am extremely grateful to the founding members, to the dedicated Board of Directors, committee volunteers, and management over the past 76 years, who guide us through uncertain times. I have always had great respect for those who volunteer so much of their time to America First.
I hope these few comments convey how fortunate we are to have such quality people here at America First, and how passionate they are about serving our members. They are truly the best in the business. I personally have the greatest respect and appreciation for our team.
To our members, we thank you for choosing America First. It is our desire to deliver financial solutions that will improve your financial well-being, and help simplify your complex and busy lives. We look forward to a lifelong relationship in serving you and your family.