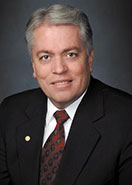 By Glen W. Olpin, Senior Vice President – Chief Economist
As the economy continues on its path toward recovery, credit unions are proving their value to their members and to every community they serve. At America First, we are dedicated to offering the finest products and services that meet our members' needs during each life stage, no matter the larger financial climate.
We put this philosophy into practice during 2014 as economic conditions, both nationally and locally, evolved. Consumers seemed hopeful and optimism climbed. Indicators suggest that consumer confidence is now reaching pre-recession levels. Inflation is low and is expected to remain subdued throughout 2015.
Nationally, job growth in 2014 was fairly strong, as monthly payroll increases averaged nearly 251,000 jobs gained, indicating considerable progress. Utah, with an unemployment rate at 3.6%, boasts one of the strongest labor markets in the country. Nevada's unemployment is above the national average at 7.6%, but is greatly improved from the Great Recession high of 14%.
Short-term market rates remained at record lows throughout the year and they are not expected to increase substantially during most of 2015. The declining-rate trend is likely to reverse course somewhat this year as the economy grows.
Across the U.S., housing data brings mixed results. Utah home prices increased by more than 10% on average last year. Nevada's home prices have also seen double-digit increases over the past two years. Nevada real estate industry sales grew over 200% during the past 12 months and are expected to continue to gain ground lost during the housing crisis.
Personal income growth in this country has been low. Growth in personal income and jobs are considered key factors in a sustained economic recovery. However, consumer credit growth overall demonstrates that many have overcome their fear of borrowing. Auto sales have been growing for the past five years. In late 2014, the auto industry reported over 17 million units sold in one month, which was the highest figure since July of 2006. Projections are that automobile sales for 2015 will continue at close to these same high levels.
The national savings rate improved modestly in 2014 and that trend is expected to continue this year. We have launched a new program for members who are searching for greater deposit returns, those who require investment & insurance products, those needing assistance with planning for and living in retirement, and those who recognize the need to develop a roadmap for their financial futures. America First Financial Solutions harnesses state-of-the-art technology with a personal touch to make financial planning for your family and business a rewarding and beneficial experience.
We at America First are grateful for your membership and are committed to providing you with the highest-quality products and the best in service. Your credit union is strong, financially stable, and well-positioned to meet your complete needs. Thank you for making us your first choice in financial services.