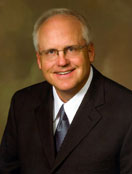 By John B. Lund, President & Chief Executive Officer
After winter, it is always a welcome relief to have spring arrive. It is a pleasure to witness the tulips and daffodils breaking through the ground, the trees beginning to blossom, and the song birds returning to occupy the trees. The season is a time of renewal and rebirth, and it's appropriate that April is National Financial Literacy Month.
If your financial literacy and that of your family is well in hand, congratulations! If your skills in this area are marginal or somewhat lacking, maybe spring marks an opportunity to dust off the cobwebs, renew, and recommit to establishing and maintaining healthy financial habits.
Financial literacy involves gaining a set of skills, knowledge, and tools that allow an individual to make informed and effective decisions regarding their fiscal resources. It has been said that the best investment you can make is in yourself. Obviously, acquiring an education and aptitude in your field of choice can increase your earning ability, which is a key component of financial stability. The wise use of resources is equally important. More money doesn't necessarily mean more happiness, comfort, piece of mind, or stability.
Jean Chatzky wrote a great little book: Money Rules. It is an easy read and full of relevant financial literacy and money-management tips. One of my favorites is "the best way to be comfortable is to be slightly uncomfortable." This sentence speaks to the importance of spending less than you make and sacrificing current pleasures a bit to be better prepared for the future.
I am proud that our organization has a mission "to provide personal financial services of superior quality to the members/owners, our chief concern being their financial well-being." America First works hard each day to achieve this goal, and no matter what phase of life you are in, the credit union stands ready to assist. We are proud of the financial tools, calculators, budgeting tips and information found on our Web site and within our Online and Mobile Banking systems. If you prefer face-to-face interaction, our people are the best in the business.
America First is active in the community and our schools, promoting financial literacy and sponsoring financial education events and activities. We hold financial seminars throughout the year and we invest in and distribute publications for youth, such as Be Money Smart. We established and continue to support the 100% For Kids Credit Union Education Foundation. We offer free financial counseling to members who may need it. We also provide a full array of financial planning, trust, and insurance services.
No matter the state of your financial health, it's never too late to seek improvement. With spring comes sunshine and energy, and a good time to recommit to doing better. Thanks to each of you for your membership in and support of America First Credit Union. We continue looking forward to a lifelong relationship.