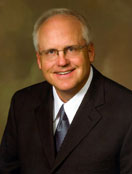 By John B. Lund, President and Chief Executive Officer
Reflecting on the challenges, opportunities, and successes of 2015, I am truly grateful to be part of such an outstanding organization. Our volunteers and staff are dedicated to delivering service that is second to none, with the objective of improving the financial well-being of each member, family, and business choosing America First. I am pleased to report that your credit union remains safe, strong, and well-positioned for a bright and vibrant future.
We reached many milestones during 2015. America First surpassed $7 billion in assets and we are the financial home to more than 740,000 members. With over 6,200 credit unions across the country, we stand as the 12th largest in assets and the 7th largest in membership. While these are significant indicators, given the relatively small population in our market, I believe our growth and achievement reflect the fact that America First offers consistent, convenient, and lasting value.
More complete financial and performance reporting for 2015 will be detailed at the Annual Meeting in April. However, a few highlights for the year include:
• We opened new branches in Kaysville, Lehi, and Herriman, Utah; and in Henderson, Nevada
• Superior service scores & measurements were attained
• Consumer Reports rated America First among the best financial institutions in the U.S.
• We received the highest ranking possible from our regulator, the National Credit Union Administration (NCUA), and a clean external audit report
• Our insurance, investment, and planning products were enhanced